#10 - The Ventures
"Sleigh Ride"
(1965)
click above to hear "Sleigh Ride"
Guitarists are a unique clan
, even among their fellow musicians. I know, I'm one of them. We're wired differently, maybe we see and hear things differently and act accordingly. Evidence of this can be seen in the jokes that have circulated among the musician community, those jokes like "How do you make a guitarist stop playing?…Give him sheet music to read.", and "How many guitarists does it take to change a light bulb?…Two: One to change it and another to say Steve Vai (or Eddie Van Halen or Yngwie Malmsteen etc…) can do it faster."
When guitarists listen to music, it's the difference between a regular person watching a magician do his or her act, and a fellow magician in the audience at that same magic show. The regular folks will watch and enjoy the "magic", while the other magician may watch and observe with a keen eye, analyzing and dissecting the magic being performed and attempting to figure out what techniques and methods are going into those tricks, and how to learn, adapt, and transform them into things they can use in their own repertoire.
The guitarist hears a recording, or a performance, always with an ear dedicated to that pursuit. Those times when a guitarist hears a fellow guitarist do something special, something unique, something different…something special enough to strike our ears and make us look up from whatever we're doing…we are not content to just sit back and enjoy it, as much as that is important in the process of listening to music. No, instead we have to set out to analyze, dissect, and learn how it was done. The first opportunity we have to get to a guitar, we'll jump into the process of figuring out the "magic" so we can learn and then use for ourselves (in other words 'steal') whatever that was which made us notice something special or unique in a series of hundreds of musical notes.
The Ventures' version of "Sleigh Ride" has several of those moments, those little phrases or techniques that caused me, and I'm sure thousands of other guitarists, to not only notice them and enjoy them, but also immediately want to know just what that sound was and how they performed it.
Besides being a terrific cover of a well-known song, a unique cover representative of a bygone era in pop music when the instrumental was as popular and as relevant as any vocal or group recording competing for sales, airplay, and chart position, The Ventures' "Sleigh Ride" is pure joy to hear and experience. It's the kind of holiday record which you hear and can't help but smile, tap your foot or nod your head along with the beat, and just feel good in general as you're listening.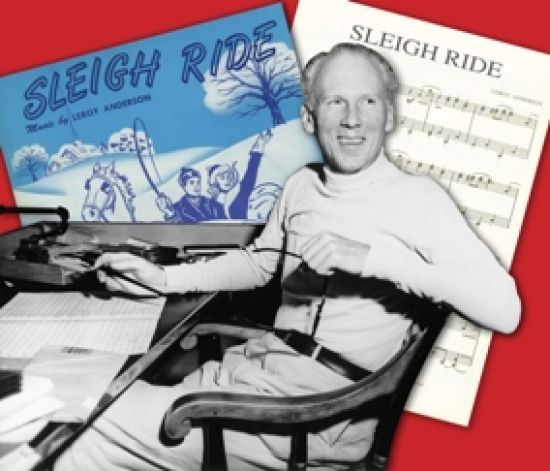 The song "Sleigh Ride" is actually not a Christmas song, rather it was composed by Leroy Anderson (started in 1946, finished in '48) during a July heat wave, where he imagined someone gliding through the snow in winter. There was an orchestral version recorded and released in 1949 by The Boston Pops under the baton of Arthur Fiedler, a friend of Anderson. The familiar lyrics were added a year later.
Leroy Anderson was born and raised in the Cambridge and Boston area, studying at Harvard and the New England Conservatory among others. Besides being a studied composer and musician, he was a brilliant linguist too, fluent in nine languages. This led to him working in counterintelligence in the Army during World War Two, stationed at The Pentagon and in Iceland among other locales, as a translator and analyst. He continued to compose music during his time in the army, and was actually recalled to active duty again during the Korean War.
Anderson was considered a "light classical" composer, in the less-challenging musical style which various Pops orchestras and "easy listening" stations would feature: Sophisticated enough to be considered something other than pop, yet accessible enough for non-classical audiences. I consider him more of a popular composer: His compositions became so well-known, so much a part of the popular culture, that they transcend a genre or label. Sleigh Ride, The Syncopated Clock…even if listeners do not know the works by title, they recognize the music from the thousands of times it has been heard in various formats.
Leroy Anderson's affiliation with Arthur Fiedler and the Boston Pops dates back to the 1930's, where he and Fiedler crossed paths in the Boston music scene as Leroy wrote, led bands, conducted, and performed in the area. It was Fiedler who encouraged him to write and compose original material, which Fiedler would often perform with the Pops.
That is the short version of how the song became forever associated with the Boston Pops' annual Christmas programs, and remains to this day a great tradition as well as a signature song and performance for the Pops and their loyal audiences. Both the instrumental and lyrical versions became perennial Christmas favorites, even though, again, the song is not about Christmas at all! But the mood is set so perfectly in the music, it is a natural fit for the holiday season.
The Ventures' classic mid-60's lineup, with their Mosrite guitars
Enter The Ventures. This was a group of guys from the Pacific Northwest who were playing and gigging around Tacoma, Washington in the late 1950's. In 1960 they cut a record called "Walk, Don't Run", an instrumental based on a Chet Atkins recording of the song, and it became a hit. They would soon move to Los Angeles, to be in the center of the music scene, where they would find a new drummer named Mel Taylor, with a heavy sound, solid beat, and experience working as a house drummer in Hollywood clubs. This was the classic lineup of the 1960's Ventures which saw them eventually become the top selling instrumental group of all time, with sales well over 100 million copies worldwide.
Beyond sales and popularity, they were pioneers of sorts in the studio. They would try out all kinds of then-new effects for their guitars and in the studio, everything from fuzz pedals to backwards tape and primitive versions of the Talk Box and vocoder. They were actually more of an album-based band than a "singles" band, although they had hit singles as well. Their albums are considered by some to be precursors to the "concept album" in rock music, which exploded and was soon done to death by the 1970's. All songs centered around a specific theme, and were sequenced in specific ways to enhance that theme.
They were also perhaps the first band to receive a full endorsement from an instrument manufacturer to sell a line of guitars and basses marketed as the "Ventures Model", sold by the Mosrite company. So great was their popularity among budding guitarists, not only was a single model introduced, but a full line of instruments each bearing the band's name and logo. The Mosrite Ventures model instruments found a new audience in the 1970's when punk and new wave guitarists like Johnny Ramone played them on stage, and their popularity as an underground favorite continues today.
The Ventures are literally superstars in Japan, selling over 40 million records so far. As popular as their music was in America, they are so highly regarded and so loved in Japan that the Japanese emperor himself in 2010 awarded them a prestigious medal "The Order of the Rising Sun", and hundreds of Ventures cover bands and tribute shows perform regularly throughout Japan. The band's sound inspired a Japanese phrase "teke-teke", which is still used to describe their guitar style and sound.
The classic Ventures lineup heard on "Sleigh Ride" was Nokie Edwards on lead guitar, Don Wilson on rhythm guitar, Mel Taylor on drums, and Bob Bogle (the original lead guitarist in Tacoma) on bass. The group in the mid-60's was recording at one of the finest studio facilities in Los Angeles, if not the entire country, at United in Hollywood. United/Western, under the ownership of Bill Putnam's Universal Audio (UA) company, was one of the most successful and best-equipped (and most well-staffed) recording facilities, a reputation it still holds today among enthusiasts and musicians. The Ventures had access to the finest equipment, and master engineers like Jim Lockert, Eddie Brackett, and various others who in any given week might record Sinatra, Dean Martin, The Beach Boys, Jan And Dean, and a radio jingle for Goodyear Tires, all with an expert touch and the highest level of engineering skill and instinct.
The Ventures themselves, apart from perhaps Mel Taylor, were not schooled musicians. They were not "readers", nor were they musical chameleons who could go from session to session and adapt, on demand, to whatever music was in front of them, though they were a great self-contained band with a unique sound and the technical skills to pull it off. But they were in the middle of the classic era for studio musicians, in Los Angeles this was "The Wrecking Crew". They could contract the finest pop players in Hollywood to enhance and augment their sound, with little rehearsal or "breaking in", pro musicians who could also if necessary sound exactly like the group they were enhancing…more on that later.
By this time in 1965, the group had been working with producer Joe Saraceno, a key figure in the history of surf music as well as one of the top producers of instrumental music in the 60's. Joe was behind a series of national hit records, all instrumentals, which at the time were released under a variety of band names but in reality were various session players from the "Wrecking Crew" playing as that band in the studio. Among these hits and "imaginary" bands were the Marketts with "Outer Limits", The Routers with "Let's Go", and the T-Bones with their take on an Alka Seltzer jingle called "No Matter What Shape (Your Stomach's In)"…each of them familiar hits which have been used as theme songs, jingles, and background music for years. Prior to that he worked on "Underwater" by the Frogmen, the record which gave Beach Boy Brian Wilson the hook to his own "Do It Again" years later, and Saraceno in his capacity working in A&R at Candix Records in the early 60's had actually gotten the Beach Boys released on the Candix label with their first original song "Surfin'". The Beach Boys prior to that were named the Pendletones, and Saraceno along with Russ Regan changed their name on the label without telling them, to make them more marketable.
In the fall of 1965 they hit on a great idea for a concept album: A Christmas album, but with each Christmas song melded together with an intro from and the basic groove lifted off of one of their previous hits or signature instrumentals. This is how "Sleigh Ride" starts with the intro taken directly from "Walk Don't Run", which by 1965 had actually charted twice, one from the Tacoma days and another as a remake called "Walk Don't Run 64".
The session information for "Sleigh Ride" is fortunately available in the form of the original AFM (Local 47) contract sheet. On September 28, 1965, the core group and five session musicians recorded "Sleigh Ride", "Jingle Bells", "Rudolph" and "Frosty The Snowman" at United Recorders, the session running from 1 to 4 in the afternoon. Drummer Mel Taylor is listed as contractor. The additional players listed were Orville "Red" Rhodes on guitar, Julius Wechter, Frank DeVito and Eddie Brackett Jr. on percussion, and Evelyn Freeman-Roberts on keyboards.
(A side note: That same week the real Ventures were recording the Christmas songs, a group consisting of Wrecking Crew musicians were simultaneously recording a Ventures guitar instructional album, in the same studios. There was a series of these instructional guitar albums released in the 60's, and were successful for what they were, but it's ironic to have both the real Ventures and their session-musician counterparts recording at the same time in the same place, September 1965.)
Julius Wechter in the studio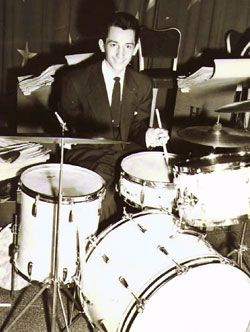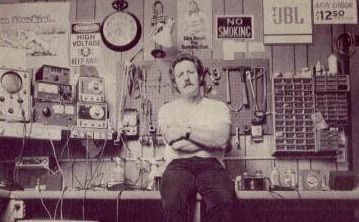 Red Rhodes in his repair shop
Julius Wechter was among the "first call" studio percussionists and mallet players in LA who would later find success leading his group "The Baja Marimba Band", an offshoot of Herb Alpert's "Tijuana Brass", on whose records he also played. Red Rhodes was a legendary pedal steel guitarist who also did repair and modification work on the instruments and amps of his fellow LA musicians, which included building customized effects units which the Ventures among others used on their recordings. Frank DeVito was among the best first-call drummers in LA, alongside Hal Blaine and Earl Palmer, and has worked with everyone from Sinatra to Elvis and is on dozens of legendary recordings.
Session keyboardist and bandleader Evelyn Freeman Roberts
The most unusual credit, yet one of the most valuable "secret weapons" for the Ventures in the studio and a groundbreaking musician in her own right was Evelyn Freeman Roberts. Many of those classic organ parts on Ventures records were played by Evelyn. When she played the Sleigh Ride sessions, she was a few years shy of 50, while most of the artists she was backing were in their 20's or younger. The sister of the brilliant musician and arranger/producer Ernie Freeman - who worked with so many but his records with Sinatra are perhaps most well-known - Evelyn herself was a skilled musician who actually led dance bands at a time when this was a very rare job for a female musician. Even in her younger years, playing with her brother in the family band, she was an expert sight-reader who would leave the classical world and enter the dance and pop fields. She would also cut several singles under her own name in the 50's and 60's, and her reading ability and musicianship made her a natural for session work.
One of the unsung heroes of the LA musician scene, contributing some great parts but remaining in the background: Evelyn Freeman Roberts.
The record starts with a familiar drum intro from Mel Taylor, starting with a snare fill and establishing that signature loud, stomping beat. It's the intro from "Walk Don't Run" - the rhythm section of Bogle and Wilson then join in with the familiar descending chords, and Nokie Edwards fires up the lead guitar melody, joined by the exuberant percussion section with sleigh bells, shaker, and glockenspiel, anchored by some subtle chords on the keyboard. It's "Sleigh Ride", Ventures-style, and like Phil Spector and others had done with their rock-pop leaning versions, they omit Anderson's bridge ('There's a Christmas party at the home of Farmer Gray…'). Instead, they cycle through the main changes much like Spector, only adding another drum break and restatement of the intro before taking it out on a very surf-like high C-chord, bent with the tremolo bar.
But that lead guitar by Nokie…amazing. He throws nearly every technique and trick he has up his sleeve into that part. He goes from clean picking…all enhanced by the *perfect* blend of Fender-style spring reverb…to tremolo bar dips and returns, to muted picking, to double-stop punctuations, to major 7th tremolo bar dives, to raking the strings over a chord in a form of what would develop as "sweep picking", to sustaining an arpeggio over that great ambiguous chord of Anderson's, played on the 10th and 12th fret, only to return without missing a beat to his 3rd fret to start up the melody…
Whew. Breathtaking guitar playing, for 1965, on a "pop" record. The first time I heard and noticed the guitar part, I was literally stunned by those tremolo-bar dips, what would later be called "dive bombs". He took the lowest note of the melody, on his low E-string, and slammed the bar so far down as to make the string completely slack. With the reverb, it created such a non-musical, atonal, yet perfect effect, and for this kind of record it was the most punk sounding guitar statement I had heard apart from Scotty Moore on "Hound Dog". I *had* to learn how he did that, and did it without missing a beat. Same for those rakes or sweep-picking arpeggios on the minor 7ths…I knew those from the modern guys like Frank Gambale and Yngwie, and before that the country swing pickers like Chet Atkins and Harold Bradley and various jazzers…and in 2013 it's a technique that's all but ubiquitous and often overused in metal and hardcore…but to hear this nascent form of it on "Sleigh Ride", of all songs? Incredible.
So for all of the folks listening to "Sleigh Ride" by The Ventures, and tapping their foot, nodding their head, movin' and groovin' to one of the all-time great amped-up rocked-out Christmas recordings, remember the guitar players out there who hear it and get the immediate urge to reach for the closest guitar available to play along with what just blew their mind for the first or the 500th time…