On the twelfth day of Christmas, my true love...no, it's not that kind of scene. Please enjoy a series of twelve essays, reviews, and musical musings on twelve classic and semi-classic Christmas songs, courtesy of Classic Studio Sessions! This is not a "Best Of" list, nor do the numbers signify a ranking of any kind. Rather, these songs seem to stand out above the rest every year, and strike an emotional chord with me in some way...or at least enough to inspire a few pages of commentary. All comments, questions, and seasonal well-wishers are both welcome and encouraged. Please enjoy the first entry in the series, and "follow" the blog for future entries.
#12 - Burl Ives: "

Have A Holly Jolly Christmas

" (1965)
(click the link above to hear 'Have A Holly Jolly Christmas')
There
are records
which we hear so many times without noticing certain key elements until perhaps the 37th or 49th or even 100th listen. There are also musical or sonic elements of those records where the question becomes "What makes that one stand out?", or in musician terms, "What's the hook?" that draws you in every time and makes it a classic. In the case of "Have A Holly Jolly Christmas", the 1965 version by Burl Ives, I'm including it here on the strength of a single 12-string acoustic guitar part which I failed to notice, really notice, for years, as well as the way some skillful Nashville country pop production techniques and a group of legendary musicians transformed a song from a television soundtrack with all the appropriate orchestral accompaniment into a hit single which has become a Christmas classic.
How many songs can claim their introduction into popular culture as delivered by an animated, singing, banjo-strumming snowman named Sam? I doubt there are many who have not seen the Rankin-Bass classic "Rudolph The Red Nosed Reindeer" at least once. Burl Ives, the folk singer, of course played the part of Sam, and also served as the visual inspiration for the character's animation. A perfect fit, perfect casting. What's not as widely known was that the character "Yukon Cornelius" was originally written to sing a few of Sam The Snowman's songs, including "Holly Jolly Christmas". Again the decision to have Ives and his narrator snowman character instead sing the song was one of those production decisions which transformed what could have been a throwaway soundtrack song into a standout classic. Can you imagine Yukon Cornelius singing it instead of Burl Ives?
The Rudolph special premiered on television in 1964, and Burl Ives would revisit and rerecord this song in time for Christmas 1965, recording an album's worth of songs during studio sessions in February 1964 and May 1965. In what seems to have been an attempt to cash in on the popularity of both the special itself and the song his character became known for (along with 'Silver And Gold'), this full-length Burl Ives Christmas album was built around "Holly Jolly Christmas" as the lead single and album title, and released on Decca/MCA in October 1965.
The song was written by Johnny Marks, who as a songwriter can also claim on his songwriting resume classics such as "Rudolph The Red Nosed Reindeer", "Rockin' Around The Christmas Tree", and "Run Rudolph Run". Marks' brother in law, Robert May, wrote the original poem which created the character Rudolph.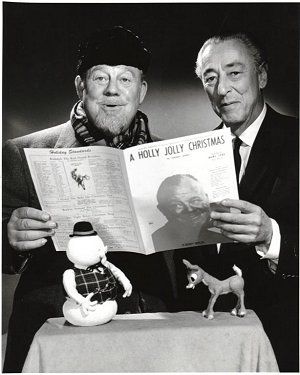 Songwriter Johnny Marks with Burl Ives, Rudolph, and Sam The Snowman
The producer of the album was Milt Gabler, a veteran producer with successful hits and bonafide classics in several genres, among them Billie Holiday's landmark recording "Strange Fruit" in 1939 and "Fine And Mellow", Bill Haley and the Comets' "Rock Around The Clock" and "Thirteen Women", and popular hits ranging from Lionel Hampton's "Flying Home" to the Andrews Sisters' "Rum N Coca Cola", Brenda Lee's "I'm Sorry", and many more. Going from an independent label to a major like Decca, a bit of trivia here, he handed over his indie label Commodore to comedian Billy Crystal's father, Jack. Side note: Billy Crystal in recent years released a compilation of Gabler's classic recordings called "The Milt Gabler Story", well worth checking out.
Producer Milt Gabler (center) with Billie Holiday
The album credits list Owen Bradley as having directed the orchestra and chorus, but in modern terms we might consider Bradley more of the actual hands-on producer than Gabler's role would have been in 1965. Owen Bradley was one of the most legendary figures in Nashville and country music history, from the 1950's onward. Recording most of his sessions in a military surplus Quonset hut, then later replacing the hut with a barn which became known as "Bradley's Barn" in Nashville studio lore, Owen was as much responsible for the sounds of crossover country in the 50's and 60's as anyone else. His group of studio musicians at that time were Nashville's version of the Wrecking Crew or the Funk Brothers, and had an instantly identifiable sound which created hit records for everyone from Elvis to Brenda Lee to Patsy Cline to…well, name any other country act of that era who hit the pop music charts and chances are one or more of Bradley's crew is on that record. These musicians included brother Harold Bradley, Grady Martin, Bob Moore, Floyd Cramer, Hank Garland, Boots Randolph, Buddy Harman, Pig Robbins…etc. Like the other studio crews, Wrecking and otherwise, these musicians cranked out hits like a well-oiled machine.
Owen Bradley with the console from his legendary Quonset Hut studio in Nashville
Onto "Have A Holly Jolly Christmas", the record. The actual session information, personnel listings, and other details are impossible to find. I cannot say with any authority who is playing on that record, where it was recorded, or anything more about those sessions which produced it…other than it has many if not all of the trademarks of a mid-60's, Nashville-based, Owen Bradley production. In other words, it has the "Nashville Sound". And short of someone finding and sharing the actual session information, that's what I'm content to assume is the case. (All corrections welcome)
So how did they turn a Rankin-Bass soundtrack song into a Christmas radio classic? Listen to the groove, the overall sound, and the foundation being created by those musicians. It sounds and feels like a hit "Nashville Sound" record, everything from the vocal chorus' wordless interjections treated with heavy reverb, to the light country swing in the drums, to the rhythm guitar accenting beats two and four with the snare, to the vibrato-ed guitar strumming the chords, leading up to the piano's solo fills in between the bridge phrases. And, of course, Burl Ives' smooth and folksy voice singing lyrics that are a universal invitation to enjoy Christmas, riding atop and driving the heavily reverb-ed studio band and chorus.
But what stands out for me, apart from the interesting backstory surrounding some of the people involved, is that amazing 12-string acoustic guitar. I'd really, really like to know who played that guitar. Was it Harold Bradley, Grady Martin, or another famous or semi-famous Nashville studio picker? I have no idea.
What I do know, without hesitation, is that it is one of the most unique and best-played acoustic 12-string guitar leads I've ever heard. The part can be described as a guitar solo that lasts the entire record. Apart from some obviously written parts, it sounds for all the world like they just let the guy rip on the session, and add whatever he felt like playing in between the written phrases. It's terrific country guitar playing, not a single bad note in the entire lot, not a single fluffed or muffled mistake, not a single stray noise or out of place phrase on the entire guitar track, and incorporating everything from string bends (on a 12-string no less…), to unusual melodic phrases and octave runs more often heard in jazz.
And how about the part itself…it's an advanced guitar part, played flawlessly by an obvious studio professional who could not only play technically but also play with feeling and groove, and playing phrases which never crowd or distract from the lyrics, yet manage to stand out. And using the classic Nashville studio effects, they slammed the part with extra reverb and a terrific tape delay for even more punch. In short, it's a brilliant part, flawlessly executed and expertly recorded..
And to think, for years, I either ignored, overlooked, or simply did not pay attention to what has become one of my favorite guitar parts on any record. It's a crucial part of making that record jump out of the speakers, and a terrific sonic "hook" which takes it from soundtrack to radio hit to perennial Christmas favorite. Apart from the feel-good lyrics, and Burl's broken-in yet warm voice, that guitar nails it.
The next time you hear it played, wherever that may be, take a moment to listen…really listen…to the parts of that record like the 12-string guitar, and you may hear some of the magic that put a smile on my face when I first noticed that guitar on a record I had heard dozens of times if not more.
Have a Holly Jolly Christmas this year, indeed…with 12-string guitar, of course.
Stay tuned for song #11...